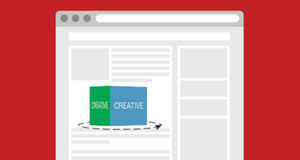 Creative template for Google Ad Manager (GAM), formerly DoubleClick for Publishers (DFP). This creative template shows four images with a three-dimensional rotating cube effect. Rotate a cube with swipe events or navigation buttons.
Features
Supports asynchronous GPT tags

Responsive

keyboard_tab

Set a maximum width for responsiveness

Pan_tool

Spin with swipe events on mobile

Swap_horiz

Show or hide directional buttons of spinning

Timer

Set auto spinning interval

Timelapse

Set spinning speed

Serve with or without clickthrough URL

Visibility

Supports "Active View" feature

Track ad impressions with 3rd-party tracking URL or 3rd-party tags
Frequently asked questions (FAQ)
What banner formats are supported in this template?
This creative template supports most popular image formats (.jpg, .png, .gif) only. No support for HTML banners.
Why Flash (.swf) and HTML5 (.html) banners aren't supported?
This creative template doesn't support Flash (.swf) files. We don't accept Flash files because most modern internet browsers disable Flash content by default currently.
HTML5 banners aren't supported because image banners give higher performance, better appearance for users, and easier usage for publishers.
Can I change navigation buttons design for this template?
Yes. All who purchase this template will have access to creative template's customization form. This form allows change design for a close button.
Can I change default values for this creative template?
Yes. Default values are changeable for the creative template.

What access rights required to install this creative template on Google Ad Manager?
To install this template user requires access to DFP with a role that has "Edit creative templates" permission enabled. Usually, users with role "Administrator" or "Trafficker" have this permission enabled by default.

What ad-unit settings and sizes are the best for this template?
This template works with size defined ad-units only. A creative appears with a size that fits an ad container by maintaining an aspect ratio of creative.